I saw someone (who I generally rather like, so naming no names) retweet this earlier: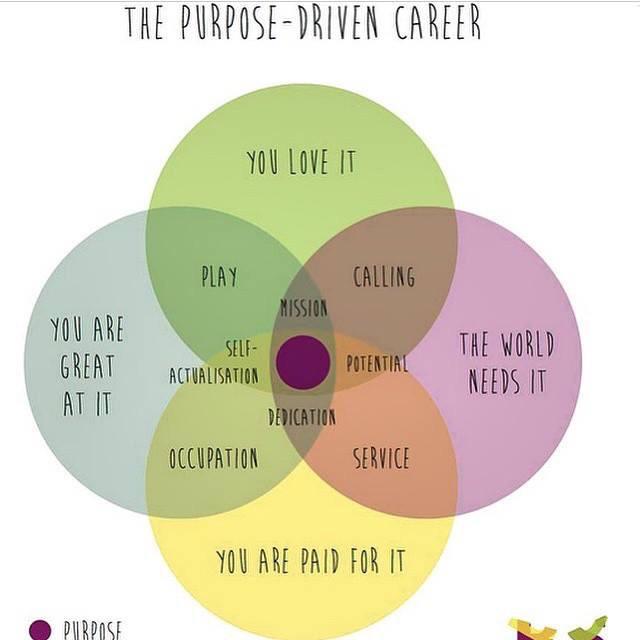 That's four circles, saying "You Love It", "You Get Paid For It", "The World Needs It", and "You Are Great At It". The tweet said "aim for the bullseye" — the bit where all four circles overlap.
I can't really imagine a better definition of "privilege" than "being the person who would tweet that image non-ironically".
I'm a fairly privileged person myself — I have a job which pays me very well. I get over the median household income, by myself, so can support both myself and my non-working wife. A lot of my friends don't get that even when both partners are in full-time employment.
But let's break this down for me, and the things I do, or have done.
You Love It: Music. Really, only that. To a lesser extent, writing these blog posts, or writing fiction. But that's more of scratching an itch — I do those things because I *need* to, to relieve a pressure. Music is the only thing I've ever done that I really *love*, that gives me unalloyed happiness. Unfortunately, I'm no good at it, the world doesn't need it, and far from paying me I regularly lost sums of up to a thousand pounds a year from being in bands and making records no-one wanted to buy.
You Get Paid For It Symbol manipulation. The only jobs I've ever had for which I've been paid more than the minimum wage have been working as either a software engineer or as a technical writer. In both of these cases, I was and am being paid for extreme pedantry and the ability to go through pages upon pages of very dull text, spot any mistakes, and fix them.
Unfortunately, I'm not great at these things (I'm above average as a technical writer, certainly — I'm *good* at my job, and I like to think *very* good, but certainly not "great", even if great is a word that could be applied to it, which I doubt), I don't love them (they're tedious), and the world doesn't need them (the company for which I'm working certainly benefits from my abilities, but if I wasn't doing my job it wouldn't make a difference to the world).
You Are Great At It Nothing. Most people don't have anything they're great at, and I'm no exception.
The World Needs It I've done three things the world needs, for some values of need — political campaigning, scientific research, and working on a psychiatric ward. Of these, I'm no good at political campaigning (I'm too flakey and let people down, and am no good at keeping to party lines), I dislike it intensely (it causes me immense amounts of stress), and it not only doesn't pay but it costs enormously in time, money, and health. I do an amount that stops me being eaten up with guilt for the way the world is, but that's all.
The research I've done (helping my uncle write various papers and number crunching and chasing down data for them) is not something for which I have any great ability, I'm interested in it but don't "love" it, and I never got (or expected) a penny from it.
And working on a psychiatric ward is a hellish experience that no-one could possibly love, I was a good nursing assistant but far from a great one (I was very good at the personal interaction with patients part, surprisingly, but not very good at the other stuff), and I got paid less than half of what I do now — and that only by working unhealthy and probably illegal amounts of overtime.
I am incredibly lucky in that I essentially get to choose between three of those four Venn diagram circles — I could either do something I love and starve, do something that's good for the world and starve, or eat while doing a job I don't love and which doesn't really benefit the world in any measurable way. That's something of a forced choice, but it is at least a choice. Most people I know don't even have as much of a choice as I do.
For most people, those four circles aren't even touching. There's no bullseye there to aim for, even for those people who have enough control over their lives that "aim" is a concept that has meaning. I'm utterly sick of this "follow your bliss" crap, spewed by Zen Pencils and his ilk (this isn't from him, but I've seen enough things like that from him that I use him as a convenient label for all of them). Oh, REALLY? I should do something that I'm great at, that I love doing, that I get paid for and that the world needs? I never, ever, ever would have thought of that until seeing this banal diagram.
All this kind of thing does is imply that those of us who are "only" in one of those four circles (and who are lucky enough to be in even one) are there because we're not clever enough to have thought of this for ourselves. "Why are you poor? Have you thought of trying being rich instead?" "Why are you doing something you hate? Have you thought of doing something you love instead?" "Why are you doing something you're not very good at? Have you thought of being great at something instead?"
These things aren't advice that anyone can actually take — they're a way of reassuring the privileged, those lucky enough to have found themselves in the centre where all four of those circles overlap by accident, that they really "aimed for the bullseye", when in fact they shot a bullet at a barn door and then the target was painted around it afterward.
Don't follow your bliss. Do whatever you need to do to survive on whatever terms are best for you, and if you can, also do things in whichever other of those circles you have the time, money, energy, and ability to do things in. But don't let smug arseholes on the internet tell you that if they manage to have a perfect life, it's because their aim is better than yours…